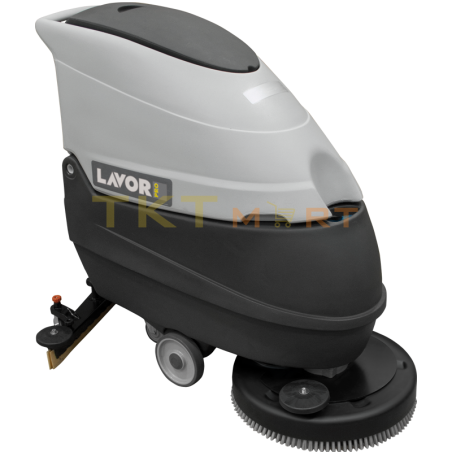  
Walk behind floor scrubber driers Lavor Free Evo 50B
Walk behind floor scrubber driers Lavor Free Evo 50B
Very compact scrubbing machines suitable to work for the maintenance cleaning of limited-size areas (up to 1.500 m²)
Especially suitable for cleaning: car shops, sales points, gym, health care
Security policy
Delivery policy
Return policy
Walk behind floor scrubber driers Lavor Free Evo 50B
Very compact scrubbing machines suitable to work for the maintenance cleaning of limited-size areas (up to 1.500 m²)
Especially suitable for cleaning: car shops, sales points, gym, health care
Powerful gear motor; metal brush plate with integrated plastic splash guard/bumper.
The outflow of the detergent solution is controlled by a solenoid valve. The actuation of the solenoid valve is operated by the control lever, avoiding the detergent solution outflow when the brush is stopped during the interruptions of work.
Renovated squeegee with new pressure adjusting system. The squeegee blades are easily
replaceable without the use of tools. Quick and easy squeegee coupling through the two large
knobs; the squeegee is released without any damage in the event of accidental impact.
Easy and intuitive controls. The outflow of the cleaning solution is easily controlled using the
mechanical lever placed on the control panel. Inspect-able mesh filter to trap any existing solid
body in the cleaning solution.
Control panel with operator presence safety system
Low level battery indicator: brush/vacuum and traction progressive cut off
Solution water filter and solenoid valve (battery model only)
Easy access to the battery compartment
Quick drain and easily inspectable recovery tank
Non-marking wheels
Roto-molded polyethylene tanks, shock and acid resistant
The lower tank also serves as battery compartment
Low noise operation thanks to the protected positioning of vacuum motor.
No customer reviews for the moment.