Scrubber machine
TKT Mart provides industrial scrubber machine with brands: Lavor, Fiorentini, Duplex, Viper, Karcher, Mlee ...
TKT Mart is the leading supplier of industrial cleaning equipment in Ho Chi Minh City, especially floor scrubber, floor scrubber single disk, FLOOR SCRUBBER-DRIERS, floor cleaner ...
TKT Mart cooperates closely with leading equipment suppliers in Italy, Germany, USA, China ... to have the cheapest and most quality scrubber machine.
TKT Cleaning (a member company of TKT Group) with experience of directly using scrubber at general sanitation facilities, periodically ... so TKT Mart will advise customers best, The most realistic, for customers to choose the most suitable scrubber.
TKT Mart is committed to continuously improving business processes, purchasing, selling, OPTIMIZING COSTS, to ensure that TKT Mart's industrial scrubber products are the cheapest and the best in the market. .
TKT Mart has the best after-sales policy, customer care. You no longer have to worry about maintenance and maintenance of your scrubber. This lets TKT mart do it for you.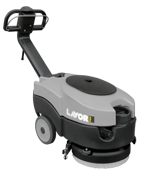 Subcategories
Lavor scrubber machine is produced by the world's leading industrial hygiene machine manufacturer in Italia Lavor Wash. The world famous Lavor scrubber is not only durable but also very beautiful and "fashionable". With the noise is always controlled strictly from the stage of design, Italian scrubber products are high-end products. Very popular with customers are luxury restaurants, hotels, commercial areas, schools, luxury hospitals, where images are always a priority. Italian Lavor scrubber is leading the market in High-end segment

Mlee floor scrubber machine, high-end products of China export market in Europe and America. High quality, durable products EXCELLENT compared to other cheap scrubber models in Vietnam market. Stainless steel body and shell, no wear and tear. Durable, high quality motor. Plastic accessories on high-end equipment