Floor Polising Diamond Dics
Supplier of diamond floor polishing, restoration discs
What is floor restoration, polishing diamond disc
Floor restoration, polishing diamond disc is plastic discs, containing super abrasive fine particles to polish, restore natural stone floor Marble, Granite, Terrazzo, Grindstone, Concrete floor. The size is usually 10-12 cm to facilitate the attachment to hand grinders, single floor scrubbers, weight scrubber machines, combined scrubber machines, or large three-phase floor grinding machines.
Diamond polishing discs, restoring stone floors containing rough to smooth particles for polishing, they are usually denoted by # 30, 50, 60, 100, 120, 150, 200, 300, 400, 500, 800, 1000, 1500, 3000, 8000 ... That is the Grit level ie the number of fine particles / area units. The larger the number, the finer the diamond disc. They are widely used in cleaning requirements from Old Deck Restoration, Polishing, Heavy Floor Cleaning, Daily Floor Cleaning
The quality of the grinding disc will depend on the bonding material (also called resin bond) and the abrasive grain contained in the abrasive particular disc and the quality control in the process of making diamond discs to The discs are of uniform quality
Where they are applied: For all types of floors from natural stone floors (marble, diamond, grindstone - marble, granite, terrazzo), glazed tile floors, concrete floors, plastic and wood floors. ..
Series of diamond polishing discs, floor recovery provided by TKT mart
TKT Mart offers a full range of diamond polishing discs, floor recovery including:
For all types of floors: Marble, Granite, Terrazzo, Concrete, Ceramic, Grinding Stone, Vinyl, Wood ...
Suitable for all types of cleaning machines, floor grinding, floor polishing: single floor scrub, combined machine, polishing machine, high speed polishing machine
Application to restore, polish stone floors
Application of floor cleaning daily, heavy floor cleaning is dirty
With the wide range of Diamond Polishing and Floor Cleaning Discs, TKT Mart fully meets all the requirements of customers in cleaning, restoring, polishing all kinds of floors < / p>
Why choose Diamond disc provided by TKT mart
These are the reasons why TKT Mart has been trusted for 10 years
100% true commitment.
All kinds of diamond polishing and restoration discs supplied by TKT Mart have been used for testing and widely used in projects of TKT Cleaning, TKT Maids, TKT Carpet, TKT Factory, members in the field of industrial hygiene of TKT. We select products by our own experience. So we are confident our products provide the most practical and effective
We only provide products from reputable, genuine companies in the world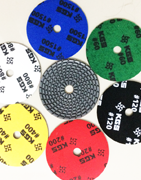 Subcategories
Supplier of floor polishing and restoring KGS diamond discs

Outstanding of floor polishing and restoring KGS diamond discs

High gloss, sustainable nature
KGS diamond disc is durable
Natural polishing does not require the use of chemicals
High economic efficiency
Does not affect, or stain the stone
European Standards and Quality

Floor polishing and restoring KGS diamond discs supplied by TKT mart

TKT Mart provides a full range of polishing discs, KGS stone floor recovery including:

For all types of floors: Marble, Granite, Terrazzo, Concrete, Ceramic, Grinding Stone, Vinyl, Wood ...
Suitable for all types of cleaning machines, floor grinding, floor polishing: Hand grinding machines, Single floor scrubbers, Combined machines, Polishing machines, High speed polishing machines, stair grinding machines
Application to restore, polish stone floors
Application of floor cleaning daily, heavy floor cleaning is dirty

With the diversified supply of polished and hygienic diamond diamond discs of KGS, TKT Mart fully satisfies all requirements of customers in cleaning, rehabilitating and polishing floors. type

Why choose Pad provided by TKT mart

These are the reasons why TKT Mart has been trusted for 10 years

100% true commitment.
KGS supplied by TKT Mart all kinds of diamond grinding discs have been used for testing and widely used in the works of TKT Cleaning, TKT Maids, TKT Carpet, TKT Factory, and members in the defense field. industrial, polishing, recovering floors of TKT. We select products by our own experience. So we are confident our products provide the most practical and effective

Supplier of stone polishing KGS diamond disc for power tools

Outstanding of stone polishing KGS diamond disc for power tools

High gloss, sustainable nature
KGS diamond disc is durable
Natural polishing does not require the use of chemicals
Does not affect, or stain the stone
European Standards and Quality
Ideal for polishing marble
Long lifetime
Delivers a highly polished surface
No decolouration of stone surface
Excellent price-performance ratio

Stone polishing KGS diamond disc supplied by TKT mart

TKT Mart provides a full range of Stone polishing Diamond disc KGS including:

For all types of floors: Marble, Granite, Terrazzo, Concrete, Ceramic, Grinding Stone, Vinyl, Wood ...
Specific for power tools machine
Application to restore, polish stone

With the diversified supply of polished and hygienic diamond diamond discs of KGS, TKT Mart fully satisfies all requirements of customers in cleaning, restoring and polishing stone

Why choose Pad provided by TKT mart

These are the reasons why TKT Mart has been trusted for 10 years

100% true commitment.
KGS supplied by TKT Mart all kinds of diamond grinding discs have been used for testing and widely used in the works of TKT Cleaning, TKT Maids, TKT Carpet, TKT Factory, and members in the defense field. industrial, polishing, recovering floors of TKT. We select products by our own experience. So we are confident our products provide the most practical and effective